This article is edited and compiled by Vaibhavi Kodnani. 
---
February 17 is celebrated as Random Acts of Kindness Day. The purpose is to celebrate stories of strangers and people who have randomly done an act of kindness for us! The Checkup Magazine reached out to doctors and medical students and 10 of them had stories to share! Happy reading!
Dr P.J.Vishnu Bharadwaja is an MBBS graduate from College of Medical Sciences, Bharatpur, Nepal. He is currently a practising doctor in Nepal.
They say being a doctor is the most rewarding job; you get paid in the most valuable token of respect. I often come across patients who name their kids after the doctor who relieved them of their long-standing discomfort. It is one of the highest honours for a doctor.
There would be several such instances where patients are grateful to doctors. But as a student, you are crumpled under a load of exams and books and are not aware of something great ahead of the path you are on. Fortunately, I got to experience something as a student that changed my professional outlook ever since.
This story dates back to 2018 when I was a student at the College of Medical Sciences, Bharatpur, Kathmandu University, Nepal.
From my first day in medical school, I started looking for opportunities to help patients admitted to the hospital. Soon, I joined a student club called 'Prawaha' that used to arrange blood donors for Emergency patient care. It became a part of my routine. We had a student blood group database and had managed many crises by then.
One day, after the usual long classes, I had come back to rest for a while in my room when I got a call asking to arrange O+ve blood. They needed as much as possible. It felt unusual. Generally, they would specify the amount of blood required. So, we went to visit the patient. The resident doctor of critical care explained that she was a 21 year female with a 9-month baby in hemodynamic shock; her BP was 80/50 and rapidly declining due to an internal bleed. She would not make it through the night. But if she gets as much blood as possible, it may be possible to save her.
Two of my closest friends, Nivedita and Joshna, were in my team, and we took up the challenge. Joshna donated a pint of blood, while Nivedita and I started contacting as many donors as we could. The blood bank had zero reserves of the required blood group that evening. But we managed to get four donors from our college, a random person who was having a cup of chai and another one who overheard us struggling over calls. In this way, we managed to arrange about six pints of blood within 2 hours and got two more pints later.
I checked in on the patient, but the chances of survival were extremely slim. I came back to my room, and all I could think was about how all these random strangers came together to help someone they don't know and what if their help could pay off. I prayed and hoped that the mother would be fine.
After three days, the patient's husband came to meet me; he had his kid in his arms. As I walked closer to him, he held my arms and almost broke into tears and said that his wife made it through and she was recovering well. I jumped with joy hearing the good news. Then, the little boy extended his hand to give me a chocolate. I couldn't stop smiling that day.
Doctors are advised not to become emotionally attached to patients. But sometimes, it could help you take that extra step which would go a long way for someone.
Dr Riskhika Anil is an MBBS graduate from Amala Institute of Medical Sciences, Thrissur, Kerala. She is an aspiring paediatrician and is currently preparing for the USMLE Step 2 CK Exam.
When I was about nine years old, I had to attend my First Communion preparation classes, held in a pretty little gazebo at the very end of the extensive grounds behind the ashram of the Capuchin fathers next to the church. It was a bit of a walk from the church gate all the way there to the other end. By the time a girl is ten, everyone has probably told her plenty of tales warning her to stay away from strangers. One day, I was late to class and had to walk that long stretch alone as my friends had already left. I ran at full speed, not because I was late but because the yard was desolate with only a bearded man working on some iron with a hammer. To my absolute horror, I fell right onto the iron bars. My knees bled. The man came near me, and I cried louder. He inspected my knees while I was crying. He picked me up and walked towards the ashram, all the while consoling me and assuring me that everything was going to be alright. The Fathers took care of my wound. But what was surprising was that the bearded man sat there the whole time, telling me jokes and even walking me to my class. In today's madly hectic world, someone stopping for a bit, giving you their time and effort for free, without thinking about the consequences, is nothing short of a miracle.
Vaidya Roomy Singla is a Medical officer at the Sirsa Charitable Hospital, Sirsa, Haryana. She is the founder of Shri Dhanwantari Ayurveda where she regularly updates health-related content to create awareness and takes consultations. She is the director of Sangeetikaa Music Academy 50+yrs heritage academy of Shri Mahavir Prasad Mookesh ji, a famous literature and music artist of Sirsa and India (also her grandfather). 
It's all about the Covid-19 pandemic. It's all about when I was in the internship training phase in the Civil Hospital of my city. The second wave of COVID was going on, there were too many cases, and the availability of oxygen cylinders was less. As internees, we have the power to take any decision medically but not for any official work. In the civil hospital, most patients could not afford oxygen. They were also worried due to the fake COVID news. I was trying my best to help the patients. Once, we had an economically stable patient, but there was no oxygen cylinder available in the hospital at that time. As I am active outside my field, I had a contact who could provide a concentrator used in place of the oxygen cylinder in an emergency. I offered them the number, and they bought it.
After some days, the patient recovered, and we discharged him. At that time, I did not know that the patient was a known person. After a few months, I coincidentally met my friend at some place. She started thanking me. She said, "You helped him a lot, you took care of him, you saved his life, a big salute to you and all doctors." That's when I learnt that it was her friend. The duty I delivered honestly meant so much to my friend. It may be an act of kindness for her, but for me, it will always be my duty!
Goldy Saxena
Goldy Saxena is a final year BAMS student from VVAMC, Bhopal, Madhya Pradesh, India.
During the COVID times, the second wave, to be specific, one of my brother's friend's approached me for help. It was May 2021. The friend's brother had fallen sick. His SPO2 had dropped way less than normal, along with 75% damage to the lungs. The patient's family were not so literate, so they had given me complete charge of the patient. From giving medicines to staying and observing him 24/7, I did my job wholeheartedly. The patient was the father of two babies. I was worried for him and his family. But, I managed his health with 'Ayurveda medicine' and put him on NIV (non-invasive ventilation).
While treating him, my father tested positive for COVID. He was in-home quarantine. As I was exposed to infection every day, I could not meet my father. I continued to give my services to other patients present in the ward. Soon, my father recovered. I met many people in my journey of working endlessly for the people. I thank Devendra Sir. Without him, the whole process of treating the patient would've been tough. This little selfless act of kindness motivates me to be kind to many more people in life.
Aritra Roy Chaudhury
Aritra Roy Chaudhury is a third-year MBBS student from IPGME&R and SSKM medical college, Kolkata, West Bengal, India.
As you all know, our country was severely hit by COVID last year. There was a shortage of medicines, oxygen, and hospital beds all around. Around May or June, I and some of my batchmates, seniors and juniors joined an NGO called 'Covid Care Network' or CCN. My job was to attend calls made to the CCN helpline. I had to help the callers with phone numbers of oxygen cylinder suppliers; hospitals and guide them about the safety measures to deal with the pandemic. We used to work in shifts of 1.5-3 hours, depending on the call load.
The incident happened when I was on my night shift – 12-3 am. On that day, we were getting numerous calls. I was receiving about 2-3 calls per minute. It was extremely hectic, and I was having a hard time keeping up with all the calls. It was 1 am, and in my room, there was only me, my phone and a diary with the numbers. I got a call. I responded as usual, "Hello, CCN helpline. How may I help you?" A girl responded in a heavy voice, " My father needs Plasma. Please help. We are not getting it anywhere." I searched for a supplier's number in my diary, gave it to her and then cut the call. After some time, she called again, this time her voice sounding like she was about to cry, and said, "They don't have the plasma. What do I do now?" I was saddened to hear this, but I started searching again, and thankfully, after searching for a while in my diary and the CCN WhatsApp groups, I got a number from another plasma supplier. I gave it to her and hoped that he would have the plasma. She cut the call, and I went back to attending other calls.
About 30 mins later, her number flashed again on my phone. I was afraid she was calling me again to inform me that even the second supplier didn't have plasma. I had been attending calls for a few days and had observed that people either called back to say that the number I had given was not working or the supplier didn't have what they needed. So, I assumed that she didn't get the plasma. I mentally prepared myself and took the call. But to my astonishment, as soon as I received the call, the same voice that was on the verge of breaking down about 30 mins ago was cheerful, "Thank you so much. The supplier asked us to keep some ID ready, and they will deliver the plasma tomorrow morning. My family and I are grateful to you. We all can sleep a little well tonight because of you." I cannot describe the happiness I felt at that moment. I told her to call again if she encountered any problems.
I am not sure if this is an act of kindness, but that one call by her only to inform me that she got what she wanted and that she was grateful for my help made my day. It boosted my confidence, and my exhaustion disappeared immediately. I was glad to know that I could help at least one person that day. The rest of my shift went smoothly. To this day, I am thankful to that girl for making that third call. Because every time I get lost in this vast world of medical science, I remember that call and tell myself to carry on so that I can help many more people out there who need it.
Shamama Khan
Shamama Khan is a third-year MBBS student from GGMC, Mumbai, Maharashtra, India.
Local trains in Mumbai are places where you can find both virtues and shortcomings of the people travelling with you. There can be instances where you literally would detest and resent travelling and other times when you'd find solace and joy in nothing but the act of travelling by this humongous mode of transport.
One such incident that crosses my mind when I think about it is at the time of my university exams. The train was crammed with regular 9-5 office workers leaving nil space between seats to stand. I carried my a-then-ton-weighing book in one hand, my mobile phone in the other and a bag on my shoulder that took all the weight of the books I had. A lady saw me struggling and juggling the book, mobile phone and myself in the crowded roller-coaster local and offered me her seat. That gesture was one of the nicest things that happened that day, and now she has a constant place in my heart for the rest of my life!
After that incident, this small act of kindness made a mark on my heart. It inspires me to do the same when I see someone in a similar situation – offer a seat!
Maitreyee Kulkarni 
Maitreyee Kulkarni is a second-year MBBS student from BJGMC Pune, Maharashtra, India.
My worst fear became a reality during my anatomy practical exam in the first year. I had forgotten my journal, duly checked and signed with its painstakingly drawn diagrams. The teachers, though understanding, said I needed it to give the exam.
Being a localite, living far from college, it wouldn't be easy to go back home and get it. I was sweating buckets and called my mom. She was at home. I explained the situation and asked her to get my journal to college. And she did. Obviously, that saved me that day. I hadn't thought of this as kindness, but looking back, it wasn't her responsibility to make up for my mistake. And if that isn't kindness, what is? She dropped her work, travelled a total of 20 km and brought my journal while I was sitting biting my nails. It wasn't an act of kindness by a stranger but by someone very close to me. So close that I didn't feel that I should be grateful for it. And that has got me thinking, how many such instances do we take for granted? It seems kindness can be invisible too.
Keerthana Chunduru
Keerthana Chunduru is a second-year MBBS student from Andhra Medical College, Visakhapatnam, Andhra Pradesh. 
When I was young, I used to commute to my school on a bicycle. One evening, I was on my way back home. While I was crossing the road, a bike hit me. As I fell to the ground, my bicycle fell on my hand and caused a wrist fracture. I couldn't get up for a while with a fractured wrist and abrasions on my palm and face. In the meantime, the person who hit me ran off with his bike. Amidst this, three people, two women and a man were kind enough to help me get up. They took me to a nearby place where they made me sit and offered me some water. A few more people gathered around me, and two of them knew me. One of them ran to my father's office to inform him about this incident as his office was in the vicinity. The other one was my friend and knew where I lived. He immediately made my mother aware of this. My parents rushed to the spot and took me to the hospital. I was stunned by the man who hit me; he took no responsibility for it and ran off. But I am grateful to the people who came to my help immediately and even contacted my parents without delay. The one fascinating thing about humanity is that the small deeds may not hold much importance for the doer, but the person on the receiving end knows how much it means to them.
Shreya Singh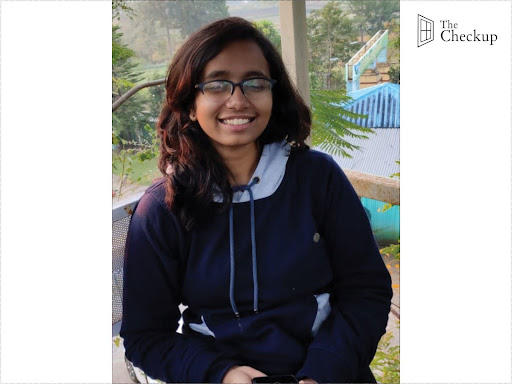 Shreya Singh is a second-year MBBS student from BJGMC, Pune, India. 
Last time when travelling by train, I had forgotten that the railways had stopped providing blankets and sheets to the passengers. I had boarded my train unprepared. Even though I am a person who can't bear the cold, I assured myself that everything would be okay and I would survive the night. But by midnight, my feet were dead cold. So, I decided to wear my shoes and sleep. After half an hour, the uncle on my opposite seat woke up and noticed my shoes. He understood the situation and immediately offered me his blanket. Thankfully, he had carried an extra one! Honestly, that gesture was one of the sweetest things that happened to me last year. It was a small incident, but it definitely made me more hopeful.
Parvathi Sreeraj
Parvathi Sreeraj is a second-year MBBS student from Government Medical College, Patiala, Punjab, India. 
18 June 2020 is the day I met my guardian angel.
I had just entered my first year of MBBS. I hated my subjects, and honestly, I didn't even understand most of them. I was already at a terrible place, and then bam! COVID. Now here I was, a Malayalee, stuck in Patiala, with no means to go home. Our hostel canteen, too, had minimal supplies. For about three months, my meals constituted egg, bread and paratha. Long story short, I could feel myself going crazy with every passing day.
That's when I decided to reach out to Dr A, who taught us GIT right before the college shut. Honestly, I didn't expect a reply, but there she was an hour later, asking me to hop in for a drive. A drive? I hadn't seen a car in months, forget sitting in one.
With cold coffee and soulful music playing, we drove through empty roads as I ranted about all that was wrong in my life. She heard me silently. An hour later, she stopped the car over a bridge. The breeze, the orange skies; I don't think I've seen a prettier sunset. Just as I was taking it all in, she put her arm over my shoulder and said, "You will be fine. Trust me." At that moment, something changed in me forever.
That is how I met my support, confidante, and most importantly, the lady who made me fall in love with medicine!