Chairperson
Dr. Santosh Karmarkar
Dr. Santosh Karmarkar is a reputed practicing pediatric surgeon with a creative bent of mind. He qualified as a doctor and Surgeon from the prestigious KEM Hospital in Mumbai. He has combined his medical knowledge with art and design ever since he was a Medical student. He has won awards for photography and painting and has contributed valuable design inputs for various health newsletters, medical conferences, and health campaigns. He is a practicing Surgeon and is affiliated with a leading Private Hospital in Mumbai.
Executive Editor
Dr. Meenakshi Maruwada
Dr. Meenakshi (BDS, GMHE) is a Dentist by profession and went ahead to pursue her management certificate program from the prestigious IIM Bangalore. After having worked in a few startups, she shifted her career path and took up writing. Today, she works with multiple startups as a content writer and marketer and is also the executive editor of this magazine.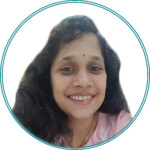 Dr. Nikhita Gune
Dr.Nikhita Gune is a qualified pediatric and preventive dentist, currently working at NH SRCC Children's Hospital, Mumbai. She is also a consultant at various private dental clinics and charitable trusts across Mumbai. She maintains her own blog on oral healthcare of children on a popular parental guidance website. A bibliophile right from childhood, being a writer has always been her dream.
Editorial Consultants
Dr. Ujwala Shenoy Karmarkar
Dr. Ujwala Shenoy Karmarkar is an anaesthetist by profession and lives and practices in Mumbai. She loves writing and writes short stories, featured articles related to medicine and also reviews plays in her spare time. Currently, she is engaged in enthusiastically ticking off her bucket list.
Dr. Rajesh Nathani
Dr Rajesh Nathani is a Paediatric Surgeon with some of the leading hospitals in Mumbai and also successfully runs his clinical practice. He is an ardent reader and an enthusiastic blogger.
Incharge -Promotions and Social media
Vaibhavi Kodnani
Vaibhavi Kodnani is a versatile writer with medical and lifestyle articles in her portfolio. She also runs a blog named 'Let's Take A Stroll', where she writes about anecdotes and thoughts from daily life. On the side, she watches films and practices screenwriting and photography with the hope to make films someday!
Editorial Team
Dr. Shreya Singh
Dr. Shreya Singh is an MBBS student at BJGMC, Pune. Being an introvert she likes spending much of her time with books and stories. She loves to write, read, draw, paint and everything that gives her a new perspective of the world and allows her to express herself.
Dr. Ritika Shetty
Ritika Shetty is a medical student based in Mumbai. She is a voracious reader with a strong dislike for dog-eared book pages. In her free time, she prefers to go on long walks and binge-watch legal thrillers.
Dr. Beneta Sam
Beneta Ann Sam, a final year MBBS student from BJGMC, Pune. She is passionate about technology and how it is reshaping our world. An avid reader, in her free time, you can find her reading a novel with a cup of coffee at hand.
Dr Vedavi Jeyakumar
A little bit of everything with a little bit from everywhere. Dr Vedavi Jeyakumar is a young, enthusiastic medical student studying at JNMC, Belgaum. She is also a passionate Bharatanatyam dancer, researcher and artist. Few words that would describe her the best would be – a Seeker, Multilinguist and an Autodidact.
Dr. Yash Kamath
Yash Kamath is a Third Year MBBS student at Seth GS Medical College. He keeps an avid interest in basically everything under the sun. He is currently involved in the social sector via multiple NGOs and is active in academic research. In his free time, you can find him with a novel or a computer, trying to make sense of the next nuance of the human condition.
Dr. Madhav Bansal
Madhav Bansal hails from Chandigarh and is currently an MBBS student at the Institute of Medical Sciences & Sum Hospital, Bhubaneswar, Odisha. Besides academic interests, he likes writing, interacting with people, and exploring new places. He claims he can never run out of topics to chat on. He believes that Medicine and Humanitarianism should go hand in hand and wants to explore this very field.
Pravin Kadam
Siddharth Mangar
Gephels
Aashi Mathur
Neha Singh