Obesity is a complex disease involving accumulation of excessive amount of body fat. Apart from cosmetic concerns, obesity has been known to increase the risk of heart disease, Diabetes, high blood pressure and certain cancers. It is attributed to the consumption of high calorie foods and over consumption of sugars. Sedentary lifestyle, longer working hours, lack of adequate sleep and exercise also contribute to excessive weight gain. Morbid Obesity can be associated with multiple problems which will make it difficult to lead a normal life.
Every aspect of life is affectedand it inhibits one from leading a fruitful and productive life. Diet and exercise can be helpful to a certain extent and remain an important adjunct to bariatric surgery in achieving and maintaining weight loss. Obesity as a chronic disease with well-defined pathologic consequences is less than acentury old. Chronic food shortage and malnutrition have been prevalent throughout most of the history. It was thought that fat was good and it served nature's purpose by outfitting the humankind with a built-in mechanism for storing its own food reserves. It was in the latter half of 19th century that obesity was considered unacceptable for cosmetic reasons and its association with increased mortality was recognized in the twentieth century. Fueled by economic growth, industrialization, mechanized transport, urbanization, an increasingly sedentary lifestyle, and a nutritional transition to processed foods and high calorie diets over the last 30 years, the prevalence of obesity has doubled
and in some countries even quadrupled. Exponential increase in the incidence of obesity led to World Health Organization declaring it a global epidemic.
Jaw wiring was the earliest attempt to alleviate obesity on the basis of the assumption that enforced reduction in food intake would result in sustained weight loss. This was later found to be unsuccessful since patients could still consume high calorie liquids and gain weight. There were also other issues of poor oral hygiene, vomiting and aspiration. Weight loss interventions were not common till the 1990's, and the initial era of bariatric
surgery began with the observation that a surgically shortened small intestine and secondary malabsorption resulted in sustained weight loss. It was understood that patients who lost a portion of the small intestine lost weight and these findings led to the further development of Bariatric surgery as we know it today. Bariatric surgery also called as weight-loss surgery or metabolic surgery is surgery for weight loss and it is the only option which provides a long term durable weight loss. It is the only field of surgery where numerous coexisting medical diseases in overweight and obese individuals including Diabetes Mellitus, Hypertension high cholesterol, sleep apnea, chronic headaches, venous stasis disease, urinary incontinence, liver disease, and osteoarthritis can be potentially cured with just one operation. Over the years, bariatric surgery has evolved into a safe and effective treatment for obesity, offering hope to those who struggle to lose weight through conventional methods.
Types of Bariatric Surgery
Today, there are several types of bariatric surgery available, each with its own advantages and disadvantages. The most common types of bariatric surgery include:
1. Gastric Bypass: This procedure involves creating a small stomach pouch and rerouting the small intestine to bypass a portion of the stomach. This procedure results in weight loss by reducing the amount of food that can be consumed and reducing the absorption of calories.
2. Sleeve Gastrectomy: This procedure involves removing a portion of the stomach to create a narrow tube-like stomach. This procedure results in weight loss by reducing the amount of food that can be consumed.
3. Adjustable Gastric Banding: This procedure involves placing a band around the top of the stomach, creating a small pouch that holds a limited amount of food. This procedure results in weight loss by limiting the amount of food that can be consumed.
4. Biliopancreatic Diversion with Duodenal Switch (BPD/DS): This procedure involves removing a portion of the stomach and rerouting the small intestine to bypass a portion of  the stomach. This procedure results in weight loss by reducing the amount of food that can be consumed and reducing the absorption of calories.
Each type of Bariatric Surgery carries its own advantages and possible disadvantages. Bariatric Surgery can help lose weight and improve many medical problems related to obesity. For patients with severe obesity, bariatric surgery can extend years of life.Patients are able to move around and be physically active after surgery. In addition to increasing mobility, which allows you to enjoy more of life's daily joys, weight loss surgery
increases self-esteem, work and social interactions, and sexuality. At the same time, it can decrease feelings of depression and anxiety.
Rita (name changed) had to say this after her surgery "I had always struggled with my weight and tried every diet and exercise program out there, but nothing seemed to work for me. That's when I decided to go for bariatric surgery and it was the best decision I've
ever made! Not only did I lose a significant amount of weight, but I have also been able to lead a healthier and more active life. The surgery has given me a new lease on life and I no longer suffer from any weight-related health problems. I feel confident and energized, and I can finally enjoy doing the things I love without being held back by my weight. I highly recommend bariatric surgery to anyone who has struggled with their weight and
wants to live a healthier life. It has changed my life for the better and I'm sure it can do the
same for others."
Disadvantages are usually specific to type of procedures. Patients will have to restrict their dietary choices for the rest of their life with Gastric Bypass. Gastric Bypass patients also have to consume tablets for vitamins/minerals for the rest of their life. Sleeve Gastrectomy is an irreversible procedure and there are higher chances of weight regain compared to Gastric Bypass. Newer innovations in bariatric surgery are being introduced in the form of Robotic Surgeries which provide better precision, increased precision and better ergonomics for surgeons.
New Innovations in the Management of Obesity:
1. Endoscopic procedures: Endoscopic procedures, such as endoscopic sleeve gastroplasty (ESG) and endoscopic intragastric balloons, are non-surgical alternatives to traditional bariatric surgery. These procedures involve placing an endoscope (a flexible tube with a camera) through the mouth to treat obesity by reducing the capacity of the stomach. Since the procedure is done endoscopically there are no scars and weight loss is comparable. Durability of the weight loss is tillbeing studied.
2. Bariatric medications: Several new medications have been approved in recent years to help treat obesity, including liraglutide, naltrexone-bupropion, and phentermine-topiramate. These medications can help suppress appetite and increase feelings of fullness, leading to weight loss.
3. Artificial Intelligence and Machine Learning: AI and machine learning algorithms are being used to develop personalized weight loss programs, analyze data from wearable devices, and predict patient outcomes. This technology has the potential to revolutionize the way obesity is managed and provide more effective treatment options for patients.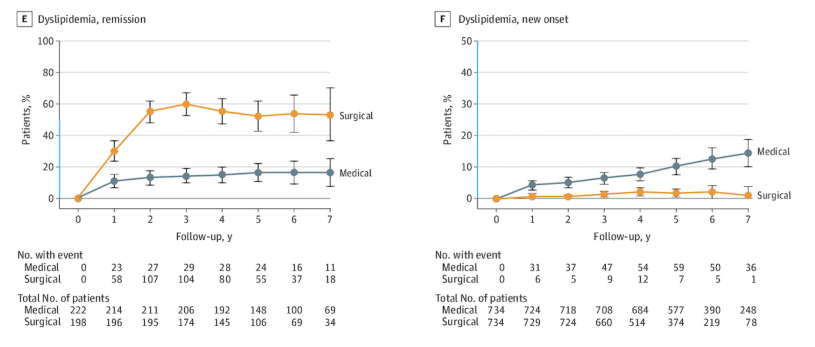 Reference :
Jakobsen GS, Småstuen MC, Sandbu R, et al. Association of Bariatric Surgery vs Medical 1 Obesity Treatment With Long-term Medical Complications and Obesity-Related Comorbidities. JAMA. 2018;319(3):291–301. doi:10.1001/jama.2017.21055