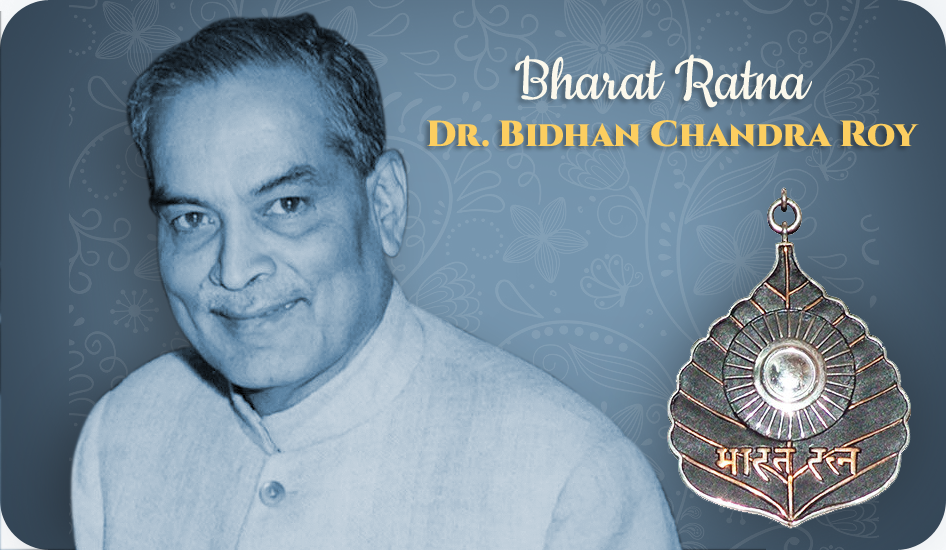 1)  India's NATIONAL DOCTORS' DAY on 1 July honors Bharat Ratna Dr Bidhan Chandra Roy, a renowned physician and West Bengal's 2nd CM, whose birthday and death anniversary fall on the same day. He was born on 1 July 1882 to a Bengali Kayastha (Hindu) family in Bankipore in Patna.
2) His father, Prakash Chandra Roy, was an excise inspector, who was a descendant of Maharaja Pradapaditya, the rebel Hindu king of Jessore (now Jashore District in Bangladesh). He was one of the most powerful Zamindars of Bengal, before being crushed by the Mughals. However, he did not inherit much wealth from his ancestors. His mother, Aghorkamini Devi, was a social worker. He was the youngest of 5 siblings.
Bidhan's father earned a moderate salary for most part of Bidhan's childhood, but they supported the education of their children and a few  orphans. The spirit of 'give and take' was inculcated in Bidhan and he was taught and encouraged to give away what was precious to them, freely and willingly.
3) Bidhan obtained a B.A. degree with honors in Mathematics in Patna College. He got admission in Indian Institute of Engineering Science and Technology as well as at Calcutta Medical College, but he chose Calcutta Medical College. This was in 1901.
4) Life at Calcutta Medical College was very difficult.  He had to earn enough money to support himself as his father was no longer in service. He earned scholarships to bear the cost of his studies.
5) HIS LIFELONG INSPIRATION 
An inscription at St Calcutta Medical College "Whatever thy hands findeth to do, do it with thy might." became a lifelong source of inspiration for him.
6. NEVER TO GIVE  UP ATTITUDE 
Bidhan left for Britain in 1909 with Rs. 1200 to enroll in St. Bartholomew's Hospital. The dean was reluctant to accept an Asian student and rejected Bidhan's application. Bidhan reapplied and was repeatedly rejected. But "Whatever thy hands findeth to do, do it with thy might", isn't it? It was on his 30th admission application that Bidhan was admitted!
7) RAREST OF THE RARE FEAT
He became a member of Royal College of Physicians and a fellow of Royal College of Surgeons simultaneously – MRCP and FRCS, which he did in 2.3 years, a rarest of the rare feat. He returned home in 1911.
He joined the Provincial Health Service and would even serve as a nurse when necessary. In his free time, he practiced privately, charging a nominal fee.
8) SERVING AS VICE CHANCELLOR OF CALCUTTA
During WW II in 1942, Rangoon fell to Japanese bombing and caused an exodus from Calcutta as it feared a Japanese invasion. As VC, Bidhan acquired air-raid shelters for schools and college students to continue their classes and provided relief for students, teachers and employees. He was conferred the Doctorate of Science in 1944 for his efforts.
9) BC AND THE YOUTH
Bidhan felt the youth must not take part in strikes and fasts but should study and commit themselves to social work, as the youth of India would determine its future.
10) HIS POLITICAL CAREER
Bidhan began his political career in 1925. He ran as an independent candidate for Bengal Legislative Council elections from Barrackpore  and defeated the "Grand Old Man of Bengal," Surendranath (called 'Surrender-Not') Banerjee.
Though an independent, he voted with Swaraj Party (Parliamentary wing of the Congress). 3 years later, he was elected to All India Congress Committee. He efficiently conducted the Civil Disobedience in Bengal in 1929 as Subhas was in and out of jail.  Thus he was nominated as Member of Working Committee (CWC) in 1930. However, the CWC was declared an unlawful assembly and Dr. Roy and others were detained at Alipore Central Jail.
11) BC and GANDHI
When he joined Gandhi's Civil Disobedience movement, he soon became his friend and personal physician. When Gandhi fasted in Parnakutivin, Poona in 1933, he refused to take medicine on the grounds it was not swadeshi.  "Why should I take your treatment? Do you treat 400 million of my countrymen free?" he asked Dr. Roy.
Dr. Roy replied, "No, I could not treat all patients free. But I came not to treat Mohandas Gandhi, but to treat "him" who to me represents the 400 million people of my country." Gandhi said in jest, "You are arguing like a third-class lawyer in a mofussil (district) court," and eventually relented.
12). He succeeded Subhas Chandra Bose in 1931 as Mayor of Calcutta for 1931-33. That time, he expanded free education, free medical aid, better roads, improved lighting and water supply. He set up a framework for dispensing grant-in-aid to hospitals and charitable dispensaries.
Dr B C Roy with Nehru and Subhas Chandra Bose
13) Post independence, he became Governor of Uttar Pradesh.
14) A year later, the Congress proposed his name for Chief Minister of Bengal even though he wanted to devote himself to his profession. When Gandhi coaxed him, he accepted and took office as second Chief Minister of West Bengal in 1948.
Dr Roy kept his practice alive and took care to cultivate the image of a legendary doctor too. He quoted, "Poor are my patients and God pays for them!"
16) He was honored with the Bharat Ratna on 4 Feb 1961.
 17 ) BC and NEHRU
He was Nehru's trusted consultant on politics and health. He called PM Nehru with his first name,  'Jawahar'. The Washington Times-Herald in 1962 quoted, "Roy is tall enough to ask Nehru to obey medical orders." Roy was one of the very few who had unhindered access to Nehru's private chambers at Teen Murti Bhavan (Nehru's official residence).
On 1 July 1962, his 80th birthday, after treating his morning patients and discharging affairs of the State, he took a copy of "Brahmo Geet" and sang a piece from it. 11 hours later he died.
Nehru gave a tearful homage to Roy. He famously said: "Bidhan Roy was a tall man, much taller than me." He served as CM until his death on 1 July 1962, dying on the same date on which he was born.
After his death, he willed his house as a nursing home after his mother, Aghorkamini Devi. He had also formed a trust for his properties at Patna to carry out social services.
18) AN INSTITUTION UNTO HIMSELF 
He was instrumental in setting up Indian Medical Association in 1928 & Medical Council of India, of which he was the first president, between 1939 and 1945.
He established 8 leading medical institutions in Calcutta – R.G. Kar Medical College, Jadavpur T.B. Hosp, Chittaranjan Seva Sadan, Kamala Nehru Hospital, Victoria Institution, Chittaranjan Cancer Hospital, Indian Institute of Mental Health, Infectious Disease Hospital and the first-ever postgraduate medical college in Calcutta.
It was his belief that ONLY A HEALTHY PERSON, STRONG in BOTH MIND and BODY, could ever hope to achieve India's Swaraj.
19) EXTRAORINARY OBITUARY BY BRITISH MEDICAL JOURNAL
In its obituary, the British Medical Journal described Dr. Roy as the "first medical consultant in the subcontinent of India, who towered over his contemporaries in several fields. At his professional zenith he may have had the largest consulting practice in the world, news of his visit to a city or even railway station bringing forth hordes of would-be patients."
20) He is considered one of the greatest chief ministers for not only handling the partition of Bengal 1947 and restoring law and order within 3 years, but also for the significant industrial development that he initiated. He set up the Durgapur Steel Plant and the Asansol-Durgapur-Ranigunj belt was called the Ruhr of India.
21)  THE FOUNDER OF 3 CITIES
He FOUNDED the cities Bidhannagar (Salt Lake City) of North 24 Parganas in Greater Kolkata region – the most populated district in the whole of India – and the planned city of Kalyani (previously "Roosevelt Nagar"), and Ashok Nagar- Habra urban settlement for refugees.
22) BC Roy was also a journalist and was the founding chairman of the United Press of India.
23) The B.C. Roy National Award was instituted in 1962 and has been awarded annually since 1976, recognizing excellent contributions in the areas of medicine, politics, science, philosophy, literature and arts.
24) HIS CONSIDERATE CHARACTER
After Independence, majority of British civil servants left the state, and the senior most civil servants had to bear a very heavy administrative burden. S K Chatterjee ICS, became the secretary in charge of both, the commerce and industries and the labour departments. When Dr B C Roy became the CM, he kindly relieved him of the charge of labour department.
Unfortunately, Chatterjee suffered from a serious illness and the doctor advised him not to attend office for more than 3 hours at a stretch. Chatterjee requested Dr Roy for early retirement. Instead,  Dr BC Roy created the post of secretary to the chief minister and cabinet secretary specially for him with the rank of chief secretary which was due to him and so arranged that he could attend office in two stages every day, with a gap for rest in the middle of the day. Such consideration could be shown only by a person with a large heart!
25) AN EXAMPLE OF TRUE STATESMAN
Another incident highlights his greatness. In those days, a  legal Remembrance had to remain present throughout to tender his views on any legal problem. During one such meeting, a proposal that was dear to Dr Roy was to be passed. But K Hazra, the legal Remembrance, who was an outstanding civil servant of merit in legal matters, raised an objection. Dr Roy flared up and the proposal was deferred for the time being. Same afternoon, Hazra came to Mr Chatterjee  and submitted his letter of resignation from service. Chatterjee immediately rushed to Dr Roy.
After office, Dr Roy's convoy went to the residence of K Hazra who came downstairs as soon as he heard that the CM had come.  Dr Roy told Hazra: "I am like your elder brother, can't I shout at you? Anyway, please take back your resignation letter. Your opinion will prevail."
Everyone was overwhelmed by this magnanimous gesture of Dr B C Roy.
WHICH CHIEF MINISTER WILL GO to THE RESIDENCE OF a CIVIL SERVANT TODAY to RECTIFY HIS MISTAKE?
---